In an environment that is constantly changing, your brain can only concentrate on one thing at a time. So, how does your brain pay attention? Join a group of neuroscientists from BrainReach for fun and interactive activities that introduce the idea of inattentional blindness, how your brain can ignore major differences in your environment, games such as the Stroop test that will test your attention, and more! BrainReach invites you to learn about how your brain selectively pays attention to certain aspects of your changing environment and how your brains ability to filter out "unimportant information" impacts your everyday life - from paying attention in the classroom to having a conversation with a family member or friend. Finally, we'll discuss some ways to help improve attention! Don't forget to check out our brain models, real animal brains and join us for hands-on learning by discovering what cells look like under a microscope!
Disciplines : Biology, Health
Types of activity : Game, Exposure
Status : Available
Reservation required : Yes
Free : Yes
Public : Children
Minimal age : 6 ans
Maximal age : 12 ans
Language : Bilingual

Further informations :
Proposed by :
samedi 07 mai, 09:00 to 12:00

Montreal Neurological Institute and Hospital
3801 Rue University
Montréal, H3A 2B4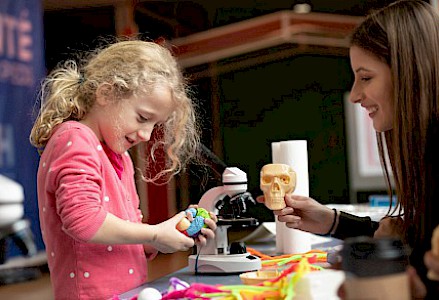 Also available
Montréal · Montréal · 7 mai
Day of festivities to celebrate astronomy: conference by Canadian Space Agency astronaut David Saint-Jacques, kiosks, photo exhibits, arts and crafts, workshops, scientific experiments, skywatching, etc.
Montréal · Montréal · 7 mai
This free event on May 7 at the Montreal Science Center invites you to discover the many career, employment and training opportunities currently available in the aerospace sector. Listen to conferences and visit kiosks.
Montréal · Pointe-Claire · 6 mai
DÉFIS NATURE Together, children participate in games from the "Défis Nature" collection. Members only. Registration required. Friday, May 6, 2022. Central : 3:30 to 4:30 p.m. (ages 7 to 12) – French.